Security Smoke Screen NUBI 4.0 Plug & Play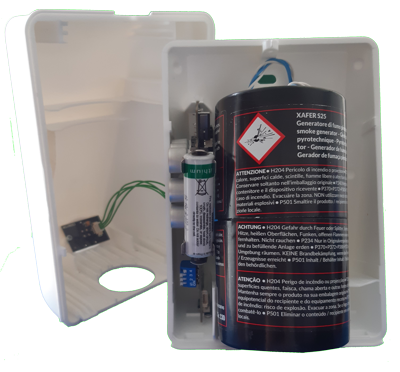 Downloads:
The new product that prevents theft and that has never been so easy to install.
Wireless and self-powered for 10 years. It can be installed with just two wall plugs..
Compatible with any alarm system equipped with an internal siren.
It does not require any programming operation on the alarm control panel.
Learn and recognize the sound of the siren by adding a real anti-theft function to your alarm.
New features:
Programming from the bottom side
Improved recognition algorithm
Possibility to extend activation up to 10 minutes after the siren sound ceases
Watch the video:
How it works:
The only configuration required is learning the sound of the siren, by means of the simple pairing operation. NUBI Plug & Play will only recognize the sound of that siren and will become active for as long as the siren sounds, ready to obfuscate the local to the first movement detected by the built-in volumetric sensor. Via a simple Jumper it is possible to select when NUBI Plug & Play will return to the sleep mode:
Always when the sound of the siren ceases, regardless of the duration of its sound.
5 or 10 minutes after the siren has stopped to play, but only if the duration of the sound of the siren has exceeded the time recorded in the pairing phase. When the duration of the alarm is lower, NUBI Plug & Play will return to sleep mode when the sound of the siren stops.
The second operating mode allows to differentiate the operation of NUBI 4.0. The false alarm, when the user disarms the system within a reasonable time, from a real alarm that produces a longer sounding time. In the latter case NUBI Plug & Play remains active for 5 or 10 minutes waiting to obfuscate the enviroment on the first movement of an intruder, even if the siren has already stopped ringing. During this period NUBI Plug & Play will emit a short beep every 8 seconds, a useful function for the owner of the system if he has generated a false alarm without having promptly disarmed it. It is possible to test the success of the pairing with the siren without causing the release of smoke, following the instructions in the user manual.
Order codes:
| Item | Description |
| --- | --- |
| NB40PP | COMPLETE KIT: NUBI 4.0 plug&Play device, powered by provided 3,6V lithium battery, with built-in passive infrared sensor, activation board and XAFER S25 smoke canister. |
Accessories: