NUBI 4.0 Security Smoke Screen – 3,6v battery without PIR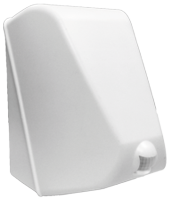 Downloads:
Application notes:
NUBI 4.0 is the active response to prevent thefts that unfortunately occur with great frequency. While the alarm system is limited only to report a theft, NUBI 4.0 prevents this from happening. In A few seconds NUBI 4.0 fills the environment with a safety smoke to prevent intruded from seeing and oriented. The atmosphere generated by NUBI 4.0 is non-toxic and the smoke, containing incense, is composed of dry particles that remain in suspension for a long time. NUBI 4.0 has a small size and low consumption as it has no boiler and does not even need annual maintenance.
Main Features
This version is powered by a 3,6v AA-size lithium Battery, supplied with the product and housed on the motherboard, with a duration of about 10 years. The special energy accumulation circuit allows the smoke canister to be activated even when the battery is almost completely exhausted.
There is only the input to activate the immediate delivery of the smoke, the input polarity for can be programmed by DIP switch. It is also present the tamper clear contact output, then the battery low output too.
In order to avoid accidental smoke emissions during installation and operation verification, for the first 30 minutes after switching on, the smoke delivery will not be immediate but following a 2 minute notice period within which the next smoke emission can be stopped.
Ordering code:
| Item | Description |
| --- | --- |
| NB40LPS1 | COMPLETE KIT: NUBI 4.0 device, 3.6V lithium battery supplied, with integrated PIR plus activation board, plus XAFER S25 canister. |
| NB40LPS1UX | WITHOUT SMOKE CANISTER: NUBI 4.0 device, 3.6V lithium battery supplied, with integrated PIR. |