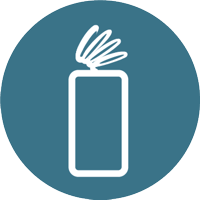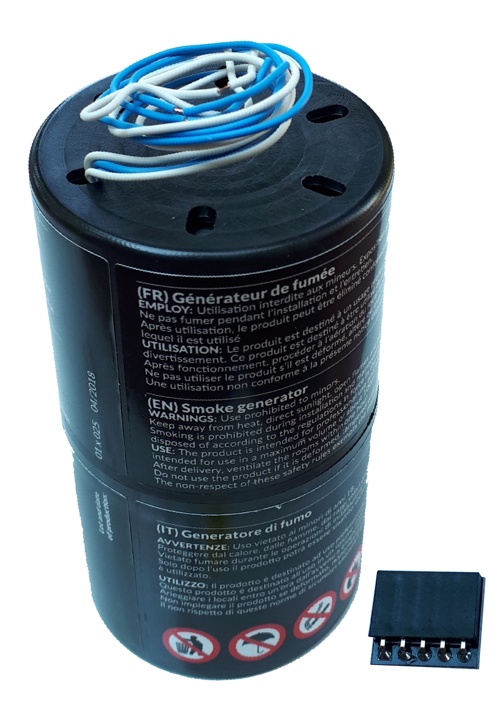 Nubi 4.0 is able to trigger the main anti-theft smoke canisters available on the market. Thanks to the special electronic energy storage circuit present on the NUBI 4.0 device, the electric energy necessary to trigger the smoke canister is always available on board the product, thus guaranteeing the triggering either with 12V low current power supplies or, in the case of battery-powered version, for 10 years with high quality battery.
The special activation electronic card, safely transfers the energy stored on the motherboard of NUBI 4.0 towards the igniters of the smoke canister. Smartek srl distributes the XAFER S25 smoke canisters, non-toxic and suitable to saturate 100 cubic meters of volume, together with the specific activation electronic card and all the KIT can be easily ordered with a single ordering code.
It is also possible to buy NUBI 4.0 to drive the canisters purchased from other suppliers, for this the KIT complete with universal activation card is available.
For security reasons, any activation card must be replaced after each triggering. When using other smoke canisters, it is recommended to check their compatibility with the data reported in the relevant technical documentation.

Sicurbox 4.0
| | |
| --- | --- |
| | The patented safety container that allows you to transport and store smoke cartridges like any ordinary goods. |
Ordering code:
Item
Description
Compatibility
NB40FMA

XAFER S25 canister, including activation card.

NB40F1
NB40S1
NB40LP1
NB40LPS1
NB40FM

XAFER S25 canister, including activation card.

NB40F1
NBAU

Universal activation card for smoke canister.

NB40F1
NB40S1
NB40LP1
NB40LPS1