The latest news
wp_8901828
New accessory for professional installations Thanks to this new accessory, the protection against the sabotage attempts of NUBI 4.0 is extended and, in addition to the anti-opening contact already present on the standard device, there [...]
wp_8901828
SMART SD is the new Smartek distributor for the Netherlands and the BeNeLux region. They offer products available in stock and technical support in Dutch, German and French.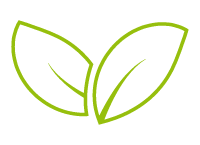 Very low consumption
NUBI 4.0 does not have a boiler, which makes it a low-consumption, eco-friendly device that
saves energy and money from the electricity bill.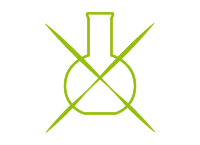 Non-toxic
The smoke generated by Nubi 4.0 does not produce toxic atmosphere, as from TLV-STEL
EU directive 2017/164 and ACGIH. After its use all you need to do is ventilate the room. The
used cartridge will be disposed of in accordance with local requirements.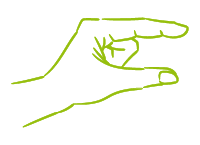 Small size
NUBI 4.0 is the smallest one in its class and can be placed on a flat surface (wall) or on the
corner. The white plastic box ensures minimal visual impact and can also be easily painted
with the same colour of the wall.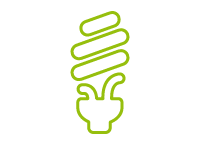 Smart
The smart algorithm used by the integrated infrared detector minimizes the risk of false
alarms, especially when NUBI 4.0 is connected to an existing burglar alarm system.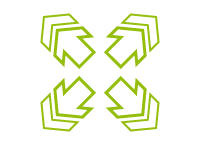 Expandable
SMART WiFi option transforms NUBI 4.0 to a remote video surveillance system. Through a
smartphone APP, tablet or PC, you will be able to see the camera images, then run the
smoke generation. With the built-in burglar alarms option, you will also be able to switch
on/off the system.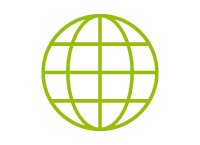 For any use
NUBI 4.0 can be connected by wire or wirelessly to any existing burglar alarm panel or used
with the built-in burglar alarm option.
Wired to any existing alarm panel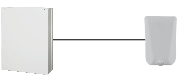 This is the most inexpensive solution and works with any existing burglar alarm. It is wired to
the control panel by a 6 or 8-conductor cable.
Wirelessly to any existing alarm panel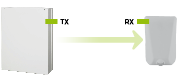 It is the solution to save installation costs because it can be connected to any existing alarm
panel without a cable.
Turn NUBI 4.0 into a remote video surveillance system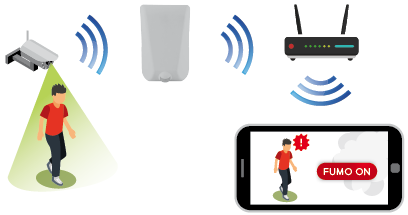 With this expansion you can control one or more WiFi cameras installed in your room
through a simple app which will also allow you to operate the smoke machine and activate or
deactivate the built-in burglar alarm unit.
BECOME OUR DEALER.
Are you a wholesale distributor and would like to sell NUBI 4.0?
FIND A DEALER
Are you an installer looking for a wholesaler in your area?
Would you like a quote without any obligation?
Are you interested in protecting your premises with NUBI 4.0?
Ask your installer for NUBI 4.0 and be wary of imitations.
NUBI 4.0 is the only system which helps you keep your electricity bill low as it is boiler-free
and therefore very economical. Only the original has the patented incense based smoke
capsule.